Samsung Galaxy Player 70 Plus launched
Samsung has launched a new galaxy player dubbed as Galaxy Player 70 Plus. Samsung Galaxy Player 70 Plus is the successor of 5-inch Galaxy Player 70.
Galaxy Player 70 Plus will be available in 16 or 32 GB variants.
Samsung Galaxy Player 70 Plus is powered by dual core 1 GHz processor, and features a 5 MP camera, FM Radio, dual-band Wi-Fi, Bluetooth connectivity expandable memory, ChatON/Kakao Talk messaging apps pre-loaded, T-DMB, gyro sensor, and 2500mAh battery.
Samsung Galaxy Player 70 Plus will be available for 399,000 won for 16 GB and 469,000 won for 32 GB.
Next iPad May Be Quick and Dainty
How important is speed to the tablet experience? How important is real portability? Apple is rumored to be testing those questions with its iPad 3 launch in March. The newest iPad may blaze along on top speed 4G networks and perhaps tuck neatly into a handbag. "Even without the Fire, Apple would have done this eventually," said tech analyst Zeus Kerravala.
Rumors are flying that the iPad 3 will debut on March 7. It will be
4G
ready, and it will be available through
Verizon
and
AT&T
(NYSE: T). The new
Apple
(Nasdaq: AAPL) tablet will be called the "iPad 3,"
The Wall Street Journal
reported Tuesday. Rumors also suggest that Apple is testing a smaller, 8-inch iPad to compete with
Amazon's
(Nasdaq: AMZN) 7-inch Kindle Fire. The smaller iPad would also come at a lower price than Apple's standard 10-inch model.
The iPad 3 is rumored to have 2048-by-1536-pixel Retina display, a quad-core A6 processor and 4G LTE networking. The system-on-a-chip A6 would double the power of the iPad 2's A5 dual-core processor.
<a href="http://bs.serving-sys.com/BurstingPipe/adServer.bs?cn=brd&FlightID=3729071&Page=&PluID=0&Pos=8734″ target="_blank"><img src="http://bs.serving-sys.com/BurstingPipe/adServer.bs?cn=bsr&FlightID=3729071&Page=&PluID=0&Pos=8734″ border="0″ width="160″ height="600″ /></a>
Faster iPad
A 4G iPad could make a big difference in performance. Add the A6 quad-core processor and the device turns into a speedboat.
"Both AT&T's and Verizon's LTE networks have shown that they are capable of some very high data speeds — speeds of 20 Mbps to 40 Mbps are not that unusual," Allen Nogee, principal analyst for wireless technology at In-Stat, told MacNewsWorld. "These speeds are more than adequate for an iPad, a device that runs quite well on a 2- 4 Mbps WiFi home network. An iPad will run fine on LTE."
However, the iPad's move to the LTE network may not come without bumps, said Nogee. If nothing else, the 4G networks still lack full nationwide coverage.
"The bigger question, should this rumor be true, is how will all these new LTE devices affect the wireless operators, and will we see problems similar to when a new iPhone is released?" Nogee wondered.
Verizon, AT&T and MetroPCS are the only carriers that currently deliver LTE, but only Verizon and AT&T have high-speed LTE networks, and neither offers 4G coverage in all U.S. cities yet.
"MetroPCS is currently using a narrow-channel LTE system that doesn't offer the high speeds of Verizon or AT&T," said Nogee. Since AT&T and Verizon already offer the iPhone, it makes sense that they would offer any new iPad.
Sprint's (NYSE: S) LTE network is in its very early stages, he noted.
Better iCloud Fit
Another reason 4G would make sense for the iPad 3 is the compatibility it offers for those using the iCloud. At 3G speeds, the iCloud is stormy weather.
"I think the 4G is the most important part of the iPad 3 launch," Zeus Kerravala, principal analyst with ZK Research, told MacNewsWorld. "With 3G speeds, using iCloud may not give you the best experience."
Should the iPad Be Smaller?
Rumors of an 8-inch iPad are nothing new. A smaller form factor would help Apple counter Amazon's popular Kindle Fire, and that may be the biggest reason it's likely to turn up now.
"However, even without the Fire, Apple would have done this eventually," said Kerravala.
When it comes to tech, one size definitely does not fit all, he noted. "The 8-inch form factor fits into suits and women's bags. It can be an easier-to-carry business device."
There may also be economic reasons to support an 8-inch iPad. "A smaller form-factor would be less expensive," Nogee pointed out, "and easier for wireless operators to subsidize."
by sreenath mukundan
visit – meowtech.blogspot.com
Samsung Throws Another Galaxy Tab at the Wall
Samsung has revealed the next-generation version of its Galaxy Tab, dubbed "Galaxy Tab 2." It's a 7-inch tablet running Android Ice Cream Sandwich. The new device provides a relatively small upgrade over the company's existing line of tablets, though it does serve to improve its selection among small form-factor slates, an area in which Apple does not tread.

Samsung
on Monday announced its latest tablet, the 7-inch Galaxy Tab 2.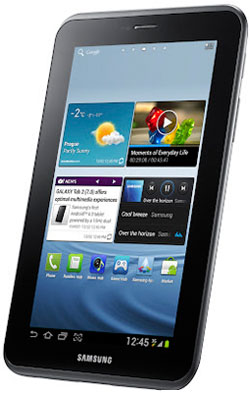 The Samsung Galaxy Tab 2
The tablet has a 1 GHz dual-core processor and runs Android 4.0 aka "Ice Cream Sandwich." It will be available in 3G and WiFi versions in Europe from March, starting with the UK market.
"Samsung's playing all over the board," Tom Mainelli, a research director at IDC, told TechNewsWorld. "They're certainly not shy about trying every form factor and screen size under the sun to figure out what's going to be competitive with Apple."
What the Galaxy Tab 2 Is All About
Through Ice Cream Sandwich, the Galaxy Tab 2 will offer access to more than 400,000 Android applications. It will have a redesigned app gallery for easier content sharing.
Ice Cream Sandwich "will bring more usability to this tablet than the previous ones [offer]," Michael Morgan, a senior analyst at ABI Research, told TechNewsWorld.
Samsung didn't upgrade predecessors to the Galaxy Tab 2 because "it's a hardware issue," Morgan said.
The Galaxy Tab 2 will offer access to Samsung Hub services. These consist of the Music Hub, which is a music store with more than 17 million tracks; the Readers Hub, which offers access to more than 2.3 million e-books, 3,500 magazines and more than 2,000 newspapers in 51 languages; and the Video Hub, which offers more than 1,000 film titles for purchase or rent.
Samsung has introduced its Touchwiz user interface on the Galaxy Tab 2. This features Hub widgets for easy access to users' content in Hubs. It also includes the "S Suggest" feature, which puts up real-time app recommendations on the home screen. The UI now has a swipe control feature for applications.
Further, Samsung has introduced its new content-sharing service AllShare Play on the Galaxy Tab 2. This lets users play, stream or transfer their multimedia content on the tablet to and from PCs, other Samsung smart devices, or third-party Web storage.
The front and rear cameras and other features are essentially similar to what's available in earlier versions of the Galaxy Tab.
Samsung did not respond to our request for further details.
by sreenath mukundan
visit – meowtech.blogspot.com




Mobile Nirvana: Syncing Smartphones, Tablets and Pcs
My work and play activities turned me into a victim of technology. I'd cart around a netbook, a tablet, a phone and sometimes a larger notebook. Sharing data across all of these devices was at first a very inelegant process. But eventually I found some very workable solutions that let me get more efficient use from today's mobile and stationary technology without having to leave some data or devices out of the mix.
T
he concept of mobile connectivity in today's multi-device world is changing. Connectivity means more than connecting our laptop computers to WiFi or
3G
carrier networks wherever we go. Today people work on more than one computer. Increasingly, workers and consumers alike rely on a growing collection of mobile devices such as smartphones and tablet PCs.
Being able to get and send email on cellphones or tablets is no longer enough connectivity. We need more synchronization among our gadgets. Having an isolated to-do task list and calendar events on our mobile devices does not meet our connectivity needs.
Rather, mobile device users need strategies for easily syncing data they enter on their desktops and laptop computers with applications on their tablets and cellphones. Achieving this degree of connectivity is no easy task. It is largely a method of trial and error. Still, this type of connectivity is possible.
My work and play activities turned me into a victim of technology. When I left my home office for a day or more, I would travel with a netbook computer, plus an
Asus
Transformer (tablet computer with attachable keyboard/docking station). Sometimes I included a larger, more powerful notebook computer.
Of course, my
HTC
Android
Smartphone hung on my belt. The phone and tablet and netbook were great for consuming media but not producing it. For a while, I kept critical data on a large-capacity USB drive to easily share its data among my computers. But I had to couple the tablet to its keyboard base to access the USB port. And the phone has no USB ports, so it was left out of the exchange.
I found some very workable solutions that let me get more efficient use from today's mobile and stationary technology without having to leave some data or devices out of the mix. I solved the data interconnectivity issue with a few well-chosen Android apps for the phone and tablet. I tied everything together with a few more
Google
(Nasdaq: GOOG) Chrome Web browser apps for my computers.
Taming the Shrew of Data
My connectivity issues worsened when I added the smartphone and tablet to my regular working routine. All of my bulk computer data was spread out into too many places. For example, the netbook and laptops accessed Ubuntu's Cloud One Service. I also had files stored via Google Docs in that provider's cloud storage system.
But my Asus Transformer Tablet automatically connected to that vendor's MyCloud service. Getting to any of those places was a challenge on the tiny smarthone screen. It was an inconvenience at best from my desktop computers.
And I still had the problem of sharing calendar details, to-do lists, interview and meeting notes from the Android devices to my Linux-driven laptops and desktop computers. The trick I discovered to curb my gluttonous appetite for files and data was to change how I handled data I needed to share among my devices.
For example, where I stored music and photos and archived files was less critical. I could use my existing forays into one or more clouds and hard drives. The solution keyed into how selectively I chose apps that run on Android that would shake hands with the Web browsers I used on my more traditional computer gear.
The Web We Weave
I needed a better Web platform to provide a conduit for data exchange and syncing among my growing collection of computers and mobile devices. I had used
Mozilla's
Firefox browser for years. But its extensive library of extensions no longer met my mobile computing needs. The Android Firefox browser was clueless. Google does offer an Android Chrome browser, but only a small number of Android phones can use it.
I began using Google's Chrome browser on my dekstop and laptop computers when I discovered its huge collection of add-on tools. In most cases they duplicated or exceeded my needs from Firefox. But they also better addressed my mobile needs.
App by app, I found free and low-cost Android solutions that talked directly to extensions and add-ons available for the Google Chrome browser. Caution: All of the Android apps do not sync with other devices. Some of them export/import. But that becomes a mundane, awkward solution quickly.
However, several Android apps let me enter data on my cellphone and have it almost instantly sync to my tablet and vice-versa. Google Chrome then updates the content in a companion Chrome app. So I can achieve two-way syncing regardless of where I enter the details — desktop or laptop computers, netbook, tablet or cellphone.
The Google Connection
Google's Web browser, through its built-in free cloud service, makes the connectivity process work. Alas, Firefox's developer, Mozilla, does not have such an offering. And the free basic individual cloud services
Canonical
(the commercial developer of Ubuntu Linux) provides and the Asus cloud solution are not as universal if you do not use their OS (for Canonical) or hardware (for Asus).
I use a toolbox of five Google Chrome apps to exchange data among my desktop and laptop computers. This part of the connectivity equation is not linked to Linux OSes per se. So this portion of the connectivity solution works with
Microsoft
(Nasdaq: MSFT) Windows and
Apple
(Nasdaq: AAPL) OS X computers as well. That may or may not hold up with apps for the iPad or Windows tablets and non-Android smartphones. They do, however, work for the Kindle Fire tablet (but not dedicated e-book readers).
These Chrome apps are available directly from the Chrome Web Store via the Google Chrome browser. The beauty of the Google Chrome browser is that it updates settings and app data and even installed apps on every computer you use as long as you are logged into your Google account.
Syncing Simplicity
Google Browser tools further expand your ability to sync data between your computers, tablets and phones. One tool set is a collection of browser tie-ins to the Google cloud called "
Google Shortcuts
." They provide instant access to documents I store as Google Docs. You can select the combination of free services that suits your needs.
The shortcuts I use from the browser toolbar are: Notebooks, Google Docs, Reader and Bookmarks. These are one click away whether I am on the phone or tablet connected to Google.com with any mobile browser or any Internet-connected desktop or laptop computer.
Two Google Chrome extensions sync my phone with the desktop and laptop/netbook browsers. The first one is the Google Chrome to Phone Extension. This lets me send links and other information from Chrome to my Android device. I first had to install the Chrome to Phone app in in the Google Chrome browsers. I also installed the Chrome to Phone app on my tablet and phone. The app is available from the Android Marketplace.
The second killer syncing tool is the Mighty Text app. It also requires companion installations on the mobile devices and Chrome browser extension. It pops up an alert on the computer when my cellphone rings or text message arrives on the phone or tablet. The beauty of Mighty Text is that I can send and receive text messages on the computer relayed through the phone's
SMS
feature. If nothing else, having access to a real keyboard while texting is convenient.
Two-Way Play
I found two Android phone/tablet apps that provide two-way data flow between phone, tablet and PCs. This solved my nagging problem of having to duplicate entries manually on all my devices and computers. Now I can use one or both of these apps for all of my gear.
The Android app
SpringPad
uses the computer's browser to connect to the SpringPad server. The Android app handles the data on phone/tablet and then syncs with the SpringPad servers. It accepts different types of information, including notes and tasks, bookmarks, recipes, checklists, shopping lists and packing lists. It also saves audio and video clips. This system works with iPhone and iPad apps as well as the Firefox and Chrome browsers. It teams up with the browser extension called "SpringIt."
Astrid Tasks
is an Android app that syncs with Google Tasks as well as Google Calendar in a two-way conduit. It solves the problem of having a calendar on the mobile devices and separate calendars on other computers. Ditto for the to-do list manager.
by sreenath mukundan
visit – www.meowtech.blogspot.com




Apple Cross-Breeds Desktop With Mobile in OS X Mountain Lion
Apple has released some early details about OS X Mountain Lion, the operating system update it plans to put out this summer. Mountain Lion will meld many of the features found in iOS, Apple's mobile operating system, with its desktop OS. "This is one of the most robust upgrades that we've seen from Apple in a while," said Creative Strategies' Tim Bajarin.
A
pple
(Nasdaq: AAPL) revealed on Thursday a developers' preview of the next version of its OS X operating system, and it's loaded with some of the features found in the company's popular iPhone, iPad and iPod touch.
Parts of the OS X refresh, called "Mountain Lion" and expected to be released in late summer, will be deja vu for users of Apple's mobile products.
A new messaging app will replace iChat. The new app closely resembles the one used by Apple's mobile devices and allows sharing of words, photos and videos among Mac users, as well as users of iOS gadgets. What's more, it lets you start a task on one device and continue to work on it on another.
A reminder app lets you create lists that can be pushed to all your devices through Apple's online storage service, iCloud.
Sharing Everywhere
The notes app in the OS looks exactly as it does on the iPad, although it has more formatting options and a neat feature that permits you to "rip" a page from the pad and place it on the desktop. Notes, too, are synchronized and shared with other devices through iCloud.
The Notification Center found in iOS will be in Mountain Lion, too. It's a single place to view your latest emails, calendar events, reminders and system notifications.
On iOS devices, sharing what you work on can be done with a single poke. With Mountain Lion, it can be done with a single click. No matter what you're doing with your computer, a share icon is always available with a context menu that lets you do things like bookmark pages, email a document, message a contact or create a tweet.
Airplay mirroring will also be found in Mountain Lion. So if you have Apple TV, you can mirror the screen of your Mac on a TV. That's especially useful for business presentations created with programs like Keynote.
Gatekeeper Security
There are also some new features in Mountain Lion not found in the realm of iOS. Support for Chinese speakers will be beefed up, and security will be improved with Gatekeeper.
Gatekeeper allows you to determine what apps can be downloaded and installed on a Mac. That isn't necessary in iOS because Apple itself acts as the gatekeeper by only allowing apps that it approves to be sold to iPad, iPhone and iPod touch users.
Gatekeeper gives you the option of installing apps only from the App Store, from the App Store and developers who have been certified by Apple or from anywhere you want.
One feature from the iOS world that doesn't seem to be making it over to Mountain Lion is Siri, the virtual assistant found on the iPhone 4S.
Robust Upgrade
"This is one of the most robust upgrades that we've seen from Apple in a while," Tim Bajarin, president of
Creative Strategies
, told MacNewsWorld.
Apple is sending a message to the markets with Mountain Lion, he added.
"The takeaway message is that Apple is more than ever committed to the Mac platform," he said. "That even though it's not the central hub of their revenues, it's still an important product in the overall Apple line and they have no intention of stopping to be innovative on the Mac or to stop supporting it aggressively."
Feature Convergence
As more features from iOS begin to show up in OS X, some believe it's only a matter of time before Apple merges the operating systems together.
"Within the next one to two years, they'll try to drive the operating systems together," Rob Enderle, president and principal analyst with the
Enderle Group
, told MacNewsWorld. "It should be done by 2015 at the latest."
Neither Apple nor
Microsoft
(Nasdaq: MSFT) is rushing into convergence, maintained Carl Howe, a research director at the
Yankee Group
. "They recognize that computers still have a lot of utility," he told MacNewsWorld. "Nobody is going to say you should give up word processing on your computer because you can watch movies really well on it."
Apple isn't alone is trying to create ties across its family of devices. Microsoft is trying to do it with Windows Phone and Windows 8.
Google
(Nasdaq: GOOG) showed signs of it when it recently introduced a version of its Chrome browser for
Android
.
"Everyone is moving the mobile world and non-mobile world together,"
ABI Research
Mobile Devices Analyst Michael Morgan told MacNewsWorld. "So all your data, all your experience will become synchronized across all of your computing activities."
by sreenath mukundan
visit – www.meowtech.blogspot.com
Google Caught With Hand In Safari's Cookie Jar
Google is among a handful of companies that used a certain unusual characteristic of Apple's Safari Web browser to insert tracking cookies on users' machines, according to recent research from a Stanford grad student. The news has outraged consumer advocacy groups, though Google claims it was using known Safari functionality to provide features that signed in Google users had enabled.
What Google Did, and How
Safari is the first browser to block tracking cookies by default, Mayer said.
It also has a cookie-blocking policy that is less restrictive than those of other browsers. Safari allows a response to write cookies if an HTTP request to a third-party domain includes a cookie or is caused by the submission of an HTML form, Mayer said.
A third-party website can cause JavaScript to submit a form in an iFrame without user interaction, Mayer said. This means the user might not know this was happening.
Google apparently leveraged the policy to circumvent Safari's privacy settings.
iFrames and Their Use by Google
An iFrame places an HTML document in a frame in another HTML document. You can use links in one iFrame to change links in another.
The iFrame used by Google loads a page that contains a meta refresh to a Google ad link, Mayer found. If the user's not logged into Google, the response directs the browser back to Google's DoubleClick advertising management and serving platform. If the user is logged in, the user is directed to Google's authentication service and then redirected to DoubleClick.
The tracking cookies last for 12 to 24 hours, Mayer said.
Vibrant Media, Media Innovation Group and PointRoll were the other three companies that Mayer found had circumvented Safari's privacy settings. Like Google, they submitted a form in an invisible iFrame to place trackable cookies in Safari.
Reaction to Google's Action
News of Google's circumvention of Safari's privacy policies has triggered outrage among consumer advocacy groups, some of which are calling on the Federal Trade Commission FTC to investigate.
"I expect many groups to express outrage at Google's wanton violation of privacy rights," John Simpson, consumer advocate at Consumer Watchdog, told TechNewsWorld. He has written to the FTC demanding an investigation of all four companies that sneaked around Safari's privacy settings, but urging it to focus on Google first. Google gave false advice to Safari users on how to opt out of receiving targeted advertising, Simpson alleged.
EPIC has also written to the FTC urging it once again to enforce a consent order entered into with Google in November over the violation of privacy by Google Buzz, the company's attempt to bring a social dimension to Gmail.
The Electronic Frontier Foundation called for Google to offer a built-in Do Not Track option. It said Google's tracking was probably an unintended side effect of a system the company built to bypass social personalization.
Do Not Track is a technology and policy proposal that lets users opt out of tracking by websites they don't visit. It's been implemented by Microsoft (Nasdaq: MSFT) in Internet Explorer 9 and the Mozilla Foundationin Firefox. Google's solution is an option for users to keep their opt-outs as an extension for its Chrome browser.
Microsoft also took the opportunity to tweak Google over the circumvention of Safari's privacy settings.
Across the Pond and Into the EU
"This office was notified of this issue by Google yesterday in broad outline terms," Deputy Data Protection Commissioner Gary Davis of the Irish Data Protection Commission, told TechNewsWorld. "We have sought clarification from Google on a number of issues to assist our understanding of the matter and await a response."
Google's Defense
"We used known Safari functionality to provide features that signed in Google users had enabled," Google's Whetstone told TechNewsWorld. The advertising cookies don't collect personal information, she added.
Google created a "temporary communication link" between Safari browsers and Google servers so that Google could ascertain whether Safari users were also signed into Google and had opted for personalized ads and other content, Whetstone said.
Google "didn't anticipate" that the Safari browser contained functionality enabling other advertising cookies to be set on the browser, Whetstone stated. Google has begun removing these advertising cookies from Safari browsers.
Users of any browsers who have opted out of personalized ad programs using Google's Ads Preferences Manager wouldn't have been affected, Whetstone contended.
However, Google ads are automatically opt-in. When asked whether Google clearly told Safari browser users about the Ads Preferences Manager and opting out, another Google spokesperson, Andrea Faville, declined comment.
visit – www.meowtech.blogspot.com
Facebook starts collecting id's of the Rich-in-freinds and famous
Stefani Germanotta might be one of the most popular music performers today but many people still have to think a moment before they realize she's Lady Gaga. Recognizing this, Facebook is putting in place an account verification mechanism for subscribers with a large number of friends.
Stefani Germanotta might be one of the most popular music performers today but many people still have to think a moment before they realize she's Lady Gaga.
Recognizing this, and the plight of other people who prefer to use nicknames — or perhaps a blog name —Facebook is putting in place an account verification mechanism for subscribers with a large number of friends.
Facebook's policy up to now has been to require all users to sign up under their real names. The new system will allow some users to submit a government ID for verification. Then they will be allowed to prominently display their nickname or alternate name — such as a maiden name, for instance — in their timelines. Their official name must also be a part of their timeline, though.
Fraud and Other Factors
Unlike Facebook, Twitter lets people sign up using whatever handle or name they choose. However, it also offers an identity-verification system. Twitter's process came under scrutiny earlier this year, though, after someone hijacked the name of Wendi Deng, wife of media mogul Rupert Murdoch, and sent out tweets pretending to be her.
In general, social media networks have been focusing more on the issue of verification for popular or famous users, Gabe Donnini, data solutions engineer at Chitika, told TechNewsWorld. In fact, Facebook's new policy of allowing famous users to sign up using a nickname was likely developed, in part at least, to get them to show a government-issued photo ID that will ensure they are who they say they are, he said.
The fraudulent use of names is becoming a concern among all social networks, Donnini said — and it is not limited to globally recognized artists such as Lady Gaga. Prominent people, perhaps businesspeople or local politicians, have also found their identities swiped on social networks.
There have been spoofing incidents affecting entire compaanies, such as in 2010, when someone used the handle "@BPGlobalPR" to send out mocking tweets in the wake of the oil spill crisis in the Gulf of Mexico.
"Facebook, Twitter and Google+ are all taking steps to keep fraudulent users off of the site," Donnini said.
What About Google+?
Another famous spoof occurred on Google+ Pages last November, when someone set up a fake Bank of America (NYSE: BAC) page that ridiculed the institution's mortgage-lending and foreclosure processes. It was reportedly up for an entire week before Google (Nasdaq: GOOG) took it down — raising doubts that the then-new network had sufficient safeguards in place.
"Google+ doesn't have an official verification policy," Donnini said, "but they have been verifying user accounts on their site."
Not a Fan of Transparency
Not everyone is a fan of complete transparency, though — and it is not because they have a nefarious intent.
The use of pseudonyms can lead to more honest, interesting and deep conversations, Anjelika Petrochenko, general manager at LiveJournal, told TechNewsWorld.
"It allows users to be their true and authentic selves and gives them the opportunity to talk about and share experiences without fear of reprisal," she said. "Furthermore, it provides a safe haven for those in need of an outlet to discuss sensitive issues, and it gives users more incentive to share opinions around a broader range of topics."
Easy to Bypass
While the trend may be toward more transparency, the reality is that people can easily bypass such safeguards.
"My nephew, Guy Palmer, was able to set up his Facebook page as 'Geeyouwhy Palmer,'" Charles Palmer, executive director of the Center for Advanced Entertainment & Learning Technologies at Harrisburg University of Science and Technology, told TechNewsWorld. "Take a look around the site and you'll find lots of people already personalizing their name and URL with creative misspellings, alliterations, and anything else they can think of.
Celebrities, of course, have their own issues, he added — although offering them a special narrowly tailored option could create some resentment, depending on how widely defined "celebrity" becomes under Facebook's rules.
In fact, I'm really surprised that Facebook is going to change its policy, but this could be a sign of many more changes as they go public," Palmer said.
visit – www.meowtech.blogspot.com